Camping 101: All You Need to Know to Plan Your Next Adventure
Camping is the perfect outdoor activity for those who love to explore nature and enjoy spending time with family and friends. Whether you prefer to sleep in a tent, cabin or RV, camping offers a unique vacation option that allows you to create memories and enjoy the outdoors. However, with so many options and locations, planning a camping trip can seem overwhelming at first. In this article, you'll discover everything you need to know to plan your next camping adventure.
What Are Your Camping Options?
Discover Different Types of Camping and Lodging
When it comes to camping, there are many options available to meet your preferences and needs. Some people prefer to sleep in a tent in a specific park, while others like to rent a cabin or yurt for the night's rest. If you have an RV, you can camp in an RV site, while some state parks also provide unique camping experiences such as glamping. Before planning your camping adventure, consider what type of camping and lodging would make your trip comfortable and enjoyable.
What Is Glamping and Is It Worth the Cost?
Glamping is a newer form of camping that combines luxury and outdoor adventure. Glamping accommodations are much more comfortable and luxurious than traditional camping, featuring amenities such as comfortable beds, heating, and air conditioning. Although the cost of glamping is higher than traditional camping, it can be worth it for those who want to enjoy the outdoors without sacrificing comfort.
How to Find the Best Camping and Lodging Option for You
To find the best camping and lodging option, you'll need to assess your budget and preferences. If you prefer to sleep outdoors and immerse yourself in nature, the traditional camping option may be the best choice for you. If you want to enjoy the outdoors with a little more comfort, you may consider renting a cabin or yurt. For those with an RV, an RV site is the perfect option to make your camping experience more manageable.
How Do You Make Reservations?
Booking a Campsite or Cabin Online: Tips and Tricks
Booking a campsite or cabin online is a convenient way to reserve your spot and make the most of your camping trip. With the help of online reservation tools, you can explore different parks, campsites, and lodgings, as well as inquire about availability and fees. When booking online, it is essential to check the reservation policies, requirements, and cancellation fees in advance.
What You Need to Know About Reservation Fees and Campground Policies
Each campground has its reservation policies, fees, and regulations that are specific to that park. These policies may include accepted payment methods, minimum-night stays, maximum occupancy rules, pet regulations, and more. Before making your reservations, be sure to check each park's policies and fees to avoid inconveniences during your stay.
Using a Reservation Tool to Find Your Next Campsite or RV Site
Reserving your next campsite or RV site is even easier with the help of reservation tools. These tools help you find campgrounds, parks, and sites that meet your specific requirements and preferences, making it easier to find the perfect location for your adventure. Some reservation tools also offer real-time site availability updates, which can be helpful when planning a spontaneous trip.
What Do You Need to Bring?
Essential Gear for Camping: What to Pack for Your Adventure
It's essential to pack the right gear for your camping adventure to ensure you stay comfortable and safe during your trip. Some essential gear includes tents, sleeping bags, a camp stove, cooking utensils, camp chairs, and a cooler. When planning your camping trip, be sure to create a camping checklist and pack appropriately for the specific park, weather conditions, and activities you have planned.
Campfire Safety Tips: Keep Your Site Safe and Clean
One of the highlights of camping is sitting around the campfire at night with family and friends, but it's essential to practice campfire safety to protect your campsite and the environment. Some campfire safety tips include keeping your campfire small, using established fire rings, never leaving a campfire unattended, and always having water on hand to put out the fire.
Should You Bring Your Dog? Rules for Pets in Parks and Campgrounds
Many people enjoy bringing their dogs with them on their camping trips, but it's essential to check the rules and regulations on pets in each park or campground. Some parks may have restrictions on leash laws or specific areas where pets are not allowed for safety reasons. Be sure to check the specific park's regulations before bringing your furry friend along.
How to Plan Your Camping Trip
Choosing the Right Location for Your Adventure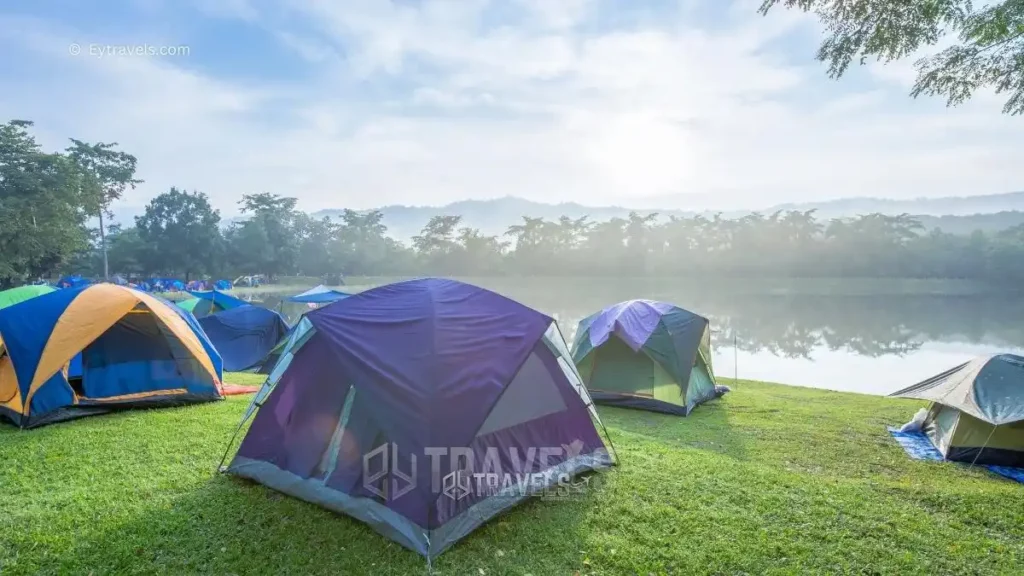 The first step in planning your camping adventure is choosing the right location. You may consider a specific park for its scenic views, wildlife, or waterway, or choose a campground close to hiking trails, fishing sites, or other outdoor activities. When selecting your destination, ensure that it meets your preferences and expectations for your camping experience.
What to Consider When Making Reservations and Planning Your Itinerary
When planning your itinerary, it's essential to consider the duration of your trip and how to make the most of your time. Factors to consider include the distance between campsites, the time needed to explore each activity, and the specific park's rules and facilities. When making reservations, consider the fees, availability, and specific requirements for each park to ensure a smooth and enjoyable experience.
Something for Everyone: How to Plan Activities and Adventures for Your Group
Camping is a great outdoor activity for groups, whether it's with family or friends. When planning activities and adventures, consider everyone's interests and ages to ensure that there's something for everyone. Some great camping activities include hiking, fishing, kayaking, or exploring the park's visitor centers or ranger stations.
What Do You Need to Know Before You Go?
How to Access State Parks and Campground Facilities
Accessing state parks and campground facilities is relatively straightforward, and many parks offer in-depth resources to help you prepare for your adventure. Before you go, check the specific park's website to learn more about accessibility, visitor center locations, hours of operation, and the park's layout. You can also reach out to the park staff with any questions or concerns you may have.
Visitor Services Available: Amenities, Programs and More
Many state parks and campgrounds offer visitor services such as amenities, programs, and more to enhance your camping experience. These services may include laundry facilities, showers, retail shops, and guided tours or educational programs. Be sure to check the specific park's visitor services to make the most of your camping experience.
Preparing for Road Trip: What to Do to Make Your Journey Easier
Preparing for your road trip to the park is essential to make the journey as comfortable and easy as possible. Before you hit the road, ensure that your car is in good condition, bring a map or GPS, and plan for stops along the way. It's also essential to bring enough food, water, and supplies to ensure that you're prepared for any unexpected situations.
Recap On Camping Planning
Overall, camping is a great way to explore the outdoors and make memories with your loved ones. By following these tips and recommendations, you can ensure that your camping experience is enjoyable, safe, and stress-free.
Q: What is camping?
A: Camping is an outdoor activity that involves setting up a temporary shelter, or camping tent, in a designated area, commonly known as a campsite, to spend a night or more in nature.
Q: What is glamping?
A: Glamping is a form of camping that combines the luxurious amenities of a hotel with the nature and outdoor experience of camping. It typically involves staying in a pre-built cabin or tent with added amenities, like running water, electricity, comfortable bedding, and furniture.
Q: What should I pack for a camping trip?
A: You should pack camping gear, like tents, sleeping bags, cooking equipment, food, water, and lighting. If you're planning to go hiking or doing any outdoor activity, bring proper clothing, footwear, and equipment, like a backpack, hiking boots, and a map.
Q: How do I find the best camping location?
A: You can find your next camping location by doing research online or using a tool like the ReserveAmerica website. It offers a comprehensive database of campgrounds across the United States, with options for RV parks, state parks, and campsites. You can filter by specific campsite amenities, activities, and more to find the perfect spot for your next adventure.
Q: How do I make a camping reservation?
A: You can make camping reservations online through the ReserveAmerica website or by calling the park or campground directly. Some campgrounds may only accept first-come, first-served basis reservations, so it's best to check ahead of time.
Q: What safety precautions should I take while camping?
A: It's important to protect yourself and the environment while camping. Make sure to bring proper safety equipment, like a first-aid kit and proper lighting. Follow all campground and park regulations, including fire safety and waste management. Protect the environment by leaving no trace and respecting the wildlife.
Q: Can I bring my pet camping?
A: Many campsites and parks allow pets, but it's important to check ahead of time for specific regulations and requirements. You should also bring proper pet gear, like leashes, poop bags, and water bowls, and ensure that your pet is trained and comfortable in outdoor environments.
Q: What are some fun camping activities?
A: Camping offers a variety of outdoor activities, like hiking, fishing, swimming, and birdwatching. You can also enjoy team sports, like volleyball and basketball, or take a more relaxing approach with a good book or hammock. Many campgrounds also offer group activities, like campfire jams or guided tours.
Q: What is a campsite?
A: A campsite is a designated area within a park or campground where campers can pitch their tents or set up their RV for a temporary stay. It typically includes a fire pit, picnic table, and nearby restroom facilities.
Q: Can I book a cabin for my camping trip?
A: Yes, many campgrounds and parks offer pre-built cabins for rent. These cabins may come with added amenities, like running water, electricity, and furniture, and can provide a more unique and comfortable camping experience. Be sure to check ahead of time for rates and availability.
Other Popular Articles ...