Trending
Top 17 Europe Travel Tips to Know Before Your First Trip 2023
What to Know Before Traveling to Europe
Whether you're planning your first trip to Europe or you're a seasoned traveler, there are a few things you should know before you go. From figuring out the best way to get around to learning a few key phrases in the local language, these 17 essential europe travel tips will help you have a great time, whether you're headed to Western or Eastern Europe.
Why You Should Travel to Europe – Attractions?
Europe is a very popular travel destination for many reasons, yet you need to consider these tips for traveling Europe. The continent has a rich history dating back thousands of years, and there are many different cultures to experience. There is also a wide variety of attractions and things to see and do, from visiting ancient ruins to exploring modern cities. The food is another major draw, as there are so many different cuisines to try. And of course, the weather is another big factor – Europe has a temperate climate with warm summers and mild winters.
When Is The Best Time to Travel to Europe As A Tourist?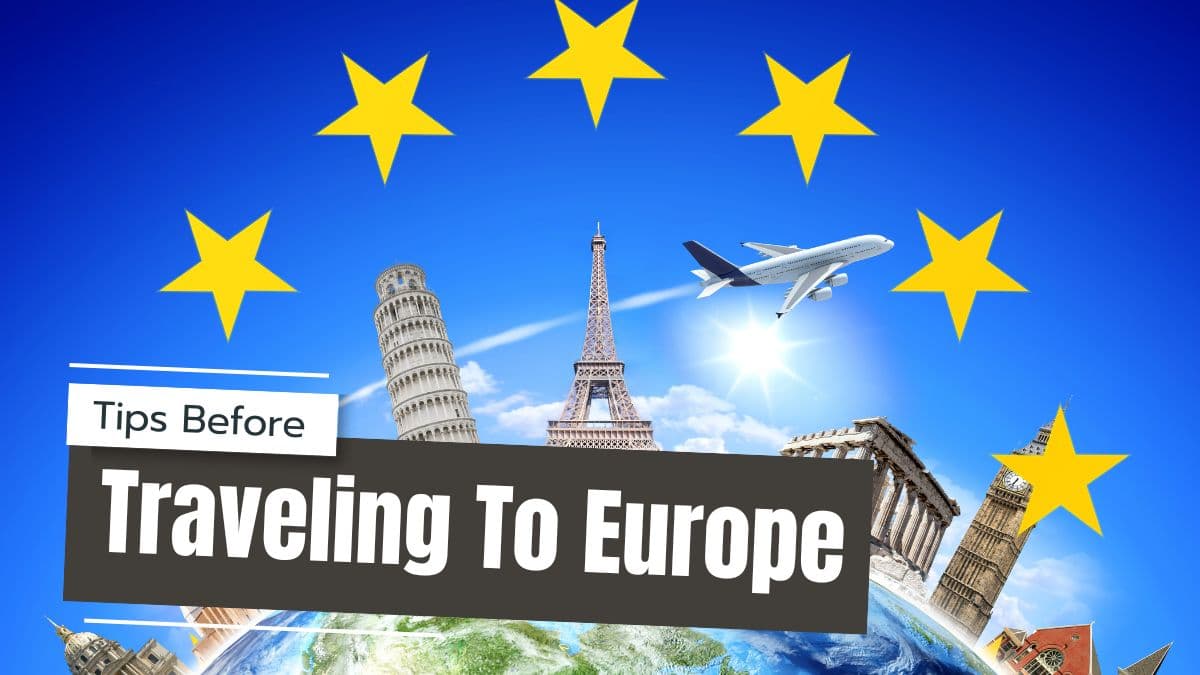 The best time to visit Europe is during the shoulder season, which is from April to May and September to October. The weather is milder during these months and there are fewer crowds, so you can enjoy your trip without having to deal with large crowds or sweltering heat.
However, keep in mind that prices will be higher during the peak season from June to August. If you're looking for a bargain, consider traveling during the off-season from November to March. You'll find lower prices and fewer people, but the weather will be colder.
Top 17 Europe Travel Tips to Know Before Your First Trip
Tip #1: Do Your Research to Explore Europe
Do your research before you go. There is a lot to see and do in Europe, and it can be overwhelming if you don't know where to start around Europe. By doing some research ahead of time, you can make sure you see the places that are most important to you. You can also save money by reserving your flights and hotels in advance, so you don't have to pay higher prices when you arrive. For starters, you will need a visa. Be prepared to pay a fee for your visa application. The amount will vary depending on the country you are applying to visit.
Tip #2: Get Travel Insurance
Your first trip is an exciting time. You'll be able to explore new cultures, meet new people and see new sights. However, it's important to remember that accidents can happen when you're travelling. That's why it's so important to get assured before you go.
There are a few things you need to consider when choosing your insurance. First, you need to make sure that the policy covers medical expenses. This is especially important if you're planning on doing any adventurous activities like hiking or skiing. Second, you need to make sure that the policy covers lost or stolen belongings. This is essential in case your passport or camera gets stolen while you're on holiday
Finally, you need to read the small print of the policy carefully before you buy it. This way, you'll know exactly what's covered and what isn't. Don't let your dream vacation turn into a nightmare – get travel insurance before you go.
Tip #3: Know Your Budget
Before you make your flight, it is important to know your budget. There are many ways to save money on your trip and have cheap flights, but you need to be aware of the potential costs.
One way to save money is to research the different transportation options. You can often find deals on flights, trains, and buses. Another way to save money is by staying in hostels or Couchsurfing and book your accommodation ahead . Another cost that you need to be aware of is food. Eating out every meal can be expensive, so it is important to budget for food accordingly. You can also save money by cooking some meals yourself.
Furthermore, you need to factor in the cost of activities and attractions. Many museums and galleries offer free admission, but there are also many paid attractions that you may want to visit. If you're looking for a cheap way to tour Europe, consider taking a cobblestone tour or opting in for free walking tours.
There are a few things that you need to take into account when budgeting for your trip, such as travel costs, accommodation, food and activities.
Travel costs will vary depending on where you are travelling from and how you are getting to Europe. If you are flying, consider the cost of your flight as well as any additional baggage fees. If you are taking the train or bus, research the prices in advance. Once you are in Europe, you may want to take advantage of the inexpensive public transportation options to get around.
Accommodation costs can also vary widely depending on your preferences. If you want to stay in a luxury hotel, be prepared to pay more than if you opt for a basic hotel or hostel.
Tip #4: Pack Light and Wisely
Assuming you're planning a trip to Europe, there are a few things you'll want to make sure you have in order to have a smooth trip. Make sure you have your passport and any other required documents ready to go. You should also check with your bank to see if your debit and credit cards will work overseas, or if you need to get travel versions of them.
As far as packing goes, try to pack light, since you'll be carrying your own bags most of the time. So you don't have to lug around a bunch of heavy bags. Stick to basics that can be mixed and matched to create different looks. And make sure you pack comfortable shoes! You'll be doing a lot of walking while sightseeing.
Finally, don't forget any necessary toiletries and medications. And it's always a good idea to have some cash on hand in case of an emergency.
You may be wondering what kind of luggage and clothing you should take. Here are a few packing tips to help you get started.
First, consider the type of trip you will be taking. If you will be doing a lot of walking, for example, comfortable shoes are a must.
Second, think about the climate of the countries you'll be visiting. In general, Europe has a mild climate, but there can be large temperature differences between regions. For instance, southern Spain is much warmer than northern Sweden. pack layers that you can easily add or remove as needed.
Finally, don't forget the essentials like your passport and travel insurance documents.
Tip #5: Learn Key Phrases in The Local Language
It is always important to learn key phrases in the local language. This will help you to communicate with locals and make your trip more enjoyable.
There are a few key phrases that are useful in all countries in Europe. "Please" and "thank you" go a long way in any language. It is also helpful to know how to say "hello," "goodbye," and "I'm sorry." In addition, it is useful to know how to ask for directions and order food and drinks.
Each country has its own unique culture and language. For example, France is known for its fashion, wine, and cuisine. In order to fully enjoy your trip to France, it is helpful to learn some key French phrases.
No matter where you travel, it is always beneficial to learn key phrases in the local language. This is especially true when visiting Europe. There are many different languages spoken throughout Europe, so knowing key phrases in the most common ones can go a long way.
Some of the most widely spoken languages in Europe are French, Spanish, and German. If you know even just a few key phrases in these languages, it will make your trip much more enjoyable. For example, being able to greet people in their own language is a great way to make a good first impression.
In addition to greeting people, there are other key phrases that can be useful. Asking for directions, ordering food and drink, and asking about prices are all things that you will likely need to do at some point during your trip.
Tip #6: Don't Be Afraid to Ask for Help
Touring Europe for the first time can be daunting, but don't be afraid to ask for help. There are many resources available to help you plan your trip and make the most of your experience.
Start by doing some research online or talking to friends who have been to Europe. This will help you get an idea of what to expect and what to pack.
Once you arrive in Europe, don't be afraid to ask locals for recommendations on things to do and see. They know the area better than anyone and can help you avoid tourist traps.
There are also many apps and websites that can help you with trip planning, including Google Maps, TripAdvisor, and Fodor's Travel Guides. With a little bit of planning and some helpful resources, you can have an amazing journey in most cities in Europe.
Tip #7: Be Aware of Scams
When traveling around, be aware of the various scams that can occur. From pickpockets to ATM skimmers, there are many ways for criminals to take advantage of unsuspecting visitors. By being aware of these scams, you can help protect yourself and your belongings while on vacation.
One common scam is known as "the bump". This is when a thief bumps into you and then apologizes profusely while distracting you with their hands. While you are distracted, they quickly take your wallet or phone from your pocket or bag. Another popular scam is ATM skimming. This is when criminals attach a device to an ATM in order to capture your card information and PIN code.
Another scam to be aware of is the "free" gift scam. This is when someone offers you a free gift, such as a piece of jewelry or an expensive watch, if you will just pay for shipping. Of course, once you pay the shipping fee, you never receive the promised gift.
To avoid being scammed, be sure to keep your valuables close to your body and be aware of your surroundings at all times.
Tip #8: Be Respectful of Local Customs and Traditions
When traveling Europe, be respectful of local customs and traditions. Here are a few tips to help you enjoy your trip:
Do your research before you go. Learn about the local customs and traditions of the countries you'll be visiting. This will help you avoid any misunderstandings or offensive behavior.
Be open-minded and tolerant. Don't expect everyone to behave like you do or think like you do. Remember that different cultures have different values and beliefs.
Be respectful of religious beliefs and practices. Many European countries have a strong Christian heritage, but there are also many other religions represented in Europe. Be sensitive to the fact that not everyone shares your beliefs.
Be aware of your body language and facial expressions. Gestures that are common in your country may be offensive in another culture.
While most Europeans are generally tolerant of tourists, there are some things that can offend or cause problems if you're unaware of them. Here are a few tips to help you avoid any potential pitfalls:
In many Euro countries, it's considered rude to show up late for appointments or social engagements. If you're running behind schedule, call ahead and let your host know.
Don't be offended if someone refuses your offer of a handshake or a hug. In some cultures, physical contact is reserved for close friends and family members.
When dining out, it's customary to leave a small tip (usually 10% of the bill) for the waitstaff.
Tip #9: Use Public Transportation
One of the best ways to get around is by using budget airlines or public transportation. Not only is it usually cheaper than renting a car, but it can also be more convenient, especially in cities. Here are a few tips for using public transportation while traveling in Europe:
Check the schedules ahead of time so you know when trains and buses are running. This will help you avoid getting stranded somewhere.
Buy tickets in advance whenever possible. This will save you money and give you peace of mind knowing that you have a seat reserved.
If you're taking a long travel by train, bring food and drinks with you so you don't have to buy anything on the train.
Be aware of pickpockets, especially in crowded areas like subways and bus stations.
Public transportation is an efficient, cost-effective way to get around Europe.
Here are a few tips to help you make the most of using public transport during your travels:
Plan your route in advance. Knowing which bus, train or tram line you need to take ahead of time will save you time and stress when you're actually travelling.
Purchase a rail pass if you're planning on doing a lot of train travel. Rail passes offer discounts on fares and can be bought for different regions or countries.
Download apps like Citymapper that help you plan your journey and give you real-time updates on schedules and disruptions.
Be aware of pickpockets – especially in crowded areas like subways or on busy buses/trains.
Tip #10: Train Travel Tips for Europe
Trains can be an efficient and cost effective way to see Europe. It is important to research your options and plan your trip in advance in order to make the most of your experience. Here are a few tips for travelling by train in Europe:
Choose the right type of ticket. If you are planning to do a lot of traveling, consider a rail pass, which will allow you to use most trains throughout Europe at a discounted rate. If you are only planning to travel between a few countries, look into point-to-point tickets, which can often be cheaper than passes.
Make reservations in advance. Many popular routes require reservations, especially during peak travel times. Making a reservation ensures you will have a seat on the train and can often get you a discount as well.
Take advantage of discounts.
Tip #11: Taxi Travel Tips for Europe
taxi travel is a great way to get around. Here are a few tips to make your experience as smooth as possible:
Check the fare before you get in. In most European countries, taxis have meters that automatically calculate the fare based on distance and time. But in some places, like Spain, Portugal, and Italy, you may need to negotiate the fare in advance.
Have your destination written down. Many European taxi drivers don't speak English, so it's helpful to have your destination written down in the local language. This will help the driver get you where you need to go without any misunderstandings.
Be aware of scams. Unfortunately, there are always people who try to take advantage of tourists.
Tip #12: Plan Ahead for Meals and Snacks
it's important to plan ahead for meals and snacks. Here are some tips to help you make the most of your trip:
Research the local cuisine in advance. This will help you know what to expect and how to find the best restaurants.
Pack snacks that are easy to eat on the go. This way you won't get hungry while sightseeing or walking around.
Make sure to try some of the local specialties. You'll be able to find these at markets or small shops near tourist attractions.
If you're staying in a hotel, take advantage of the breakfast buffet. This is a great way to start your day with a filling meal.
Plan ahead for dinner by making reservations at popular restaurants.
Tip #13: Don't Let The Weather Stop You
No matter what the weather is like, don't let it stop you from enjoying your holiday. Here are some tips to help you make the most of your trip:
Dress in layers, so you can easily adjust to changes in temperature.
Be prepared for rain. Pack a raincoat or umbrella, so you're prepared for any precipitation.
Check the forecast before you leave, so you know what to expect.
Don't let the weather dictate your plans – if there's something you really want to see or do, go for it!
Be flexible with your itinerary and plan for some indoor activities in case of bad weather.
Use public transportation instead of walking or biking if it's raining or snowing.
Most importantly, don't forget to enjoy yourself despite the weather conditions!
Don't let the weather stop you from exploring. There's so much to see and do in Europe, no matter what the weather is like outside.
Embrace the cooler temperatures. Many European cities are beautiful in the colder months, so don't miss out on them just because it's not beach weather.
Make sure to pack comfortable shoes.
If you're planning a trip to see the Eiffel Tower, you may be wondering if it's worth it to go in the rain. Remember that umbrellas are not allowed inside the tower. This is for safety reasons, so be sure to dress accordingly. A raincoat or poncho will do the trick.
Tip #14: Drink Lots of Water
Be sure to drink lots of water! Not only will it keep you hydrated, but it will also help you avoid dehydration and jet lag. Here are some tips for staying hydrated while traveling:
Carry a reusable water bottle with you everywhere you go.
Fill up your water bottle at every opportunity, especially before boarding a plane or train.
Drink regularly throughout the day, even if you don't feel thirsty.
Avoid alcoholic beverages and sugary drinks, which can actually contribute to dehydration.
Eat foods that are high in water content, such as fruits and vegetables.
Avoid ice cubes in your drinks. Ice cubes can be made with tap water, so it's best to avoid them altogether.
If you're feeling fatigued or have a headache, drink a glass of water right away. These could be signs of dehydration.
Tip #15: Don't Forget Your Phone Charger Tip
When traveling, don't forget to pack your phone charger! With so many things to see and do, you'll want to make sure you can stay connected with family and friends back home. Here are a few tips to ensure you have a great trip:
Purchase a travel adapter before you go. This will allow you to charge your devices in any country.
Pack an extra power bank or battery pack. This way, if you can't find an outlet to charge your phone, you'll still have some juice left.
Bring along a portable charger. These are great for long days sightseeing when you may not have access to an outlet.
With these tips in mind, you're sure to have a great time exploring all that Europe has to offer!
Tip #16: Take Breaks and Relax
Whether you're visiting for a week or a month, make sure to take some time for yourself while you're exploring Europe. It can be easy to get caught up in the excitement of trip and try to do too much, but it's important to relax and enjoy your vacation. Here are a few tips to help you make the most of your trip:
Plan some down time: During your planning process, be sure to schedule in some days or half days where you don't have any plans. This will give you time to relax, explore at your own pace, and just enjoy being in a new place.
Find ways to relax: Take advantage of opportunities to relax while you're on your trip.
Tip #17: Travel With A Friend
Whether you're packing your bags for a weekend getaway or a month-long adventure, traveling with a friend is always more fun. Here are our top tips for planning the perfect tour with your bestie:
Do your research. Before booking any flights or hotels, make sure you and your friend are on the same page about what kind of trip you're looking for. Do you want to hit all the major tourist spots? Or explore some off-the-beaten-path destinations? Once you know what you both want out of the trip, it will be much easier to plan accordingly.
Divide and conquer. When it comes to actually booking flights and accommodation, take advantage of each other's strengths.
Don't hang out alone at night.
---
In conclusion,these are the top 17 Europe travel tips you need to know before your first trip: book in advance, get a Eurail pass, rent a bike, take walking tours, visit small towns, try the local food, go off the beaten path, take day trips, take night trains, make new friends, and enjoy the experience. With these tips in mind, you're sure to have a fantastic time on your firstvisit to Europe!
Other Popular Articles ...